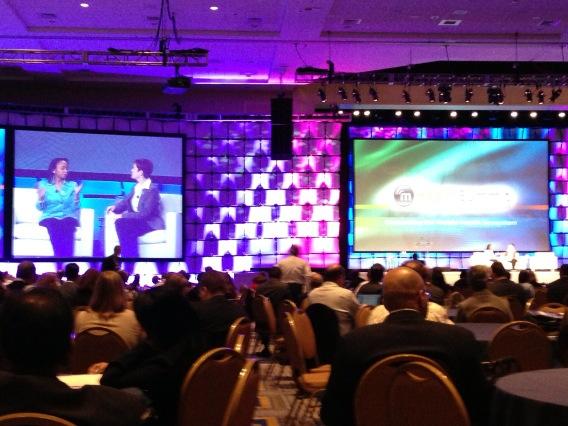 Here at the mHealth Summit, we had a session this morning presented by patient advocates. The speakers were: Donna Cryer, American Liver Foundation, and MaryAnne Sterling, Sterling Health IT Consulting.
The use of mobile technology can empower patients, but these tools can also harm patients if they are not used properly. We heard about that
yesterday from Mark Bertolini, CEO of Aetna
. He reminded us that health care delivery needs to get easier, be more convenient and engage patients.
Donna Cryer explained how the American Liver Foundation created an "Innovation Council" to identify ways to educate and empower patients. They identified technology solutions that facilitate Hepatitis C testing, medication adherence, peer support, and more. I love the idea of creating an Innovation Council or some other formal group that will focus on the
Process of Innovation
.
Wearing a "Walking Gallery" jacket pained by
Regina Holliday
, MaryAnne Sterling began her presentation telling personal stories about patient care. We can all play a key role in the health care ecosystem to improve care coordination. There are digital tools and resources that patients can use to improve medication management and patient-provider communication.
Sometimes clinicians tend to forget what patients don't know. It's easy to forget that most patients don't understand complex medical terminology. They don't necessarily understand how the health care system works. Which long-term care should they choose? How should they shop for home health services? Can they get their medications for less somewhere else?
2012 mHealth Summit Coverage
The 2012 mHealth Summit coverage on Medicine and Technology.com is sponsored by HP. HP's extensive portfolio of products, solutions, services and relationships can help your healthcare organization achieve quality business practices and provide quality patient care. Follow HP Healthcare on Twitter @HPHealthcare.